5108 mussel|ムッセル
Regular price
Sale price
¥3,800 JPY
Unit price
per
Sale
Sold out
A new way to eat mussels proposed by 5108 Mussels!
If you've traveled to Europe, you probably know it. Mussels are commonly eaten using mussel shells instead of cutlery.
Therefore, we propose to eat it with a metal shell-shaped cutlery that follows the way of eating.
It looks elegant and leaves less dirt on your hands.
There may be a day in the near future when mussels become popular in Japan, carrying MY MUSSEL PICK instead of MY chopsticks and eating mussels.
We have prepared a pair set for two people.
We, 5108 Gotbar, propose a new way to eat MUSSEL mussels.
My mussel pick for shelling mussels. The perfect way to enjoy steamed mussels in a delicious and elegant way.
Pair My Mussel Pick (2 pieces)

【Product Details】
MY MUSSEL PICK Mai Mussel pick 2 pairs
Metal: Pewter (96% tin, 2% antimony, 2% copper)

Size: 1 pick shell size (total width 25 mm, total length 60 mm, depth 8 mm) x 2 pieces
Structure: Spring open/close type

Weight: about 30.4g × 2 total about 61g
【recipe】
Basic recipe wine steaming

Share
View full details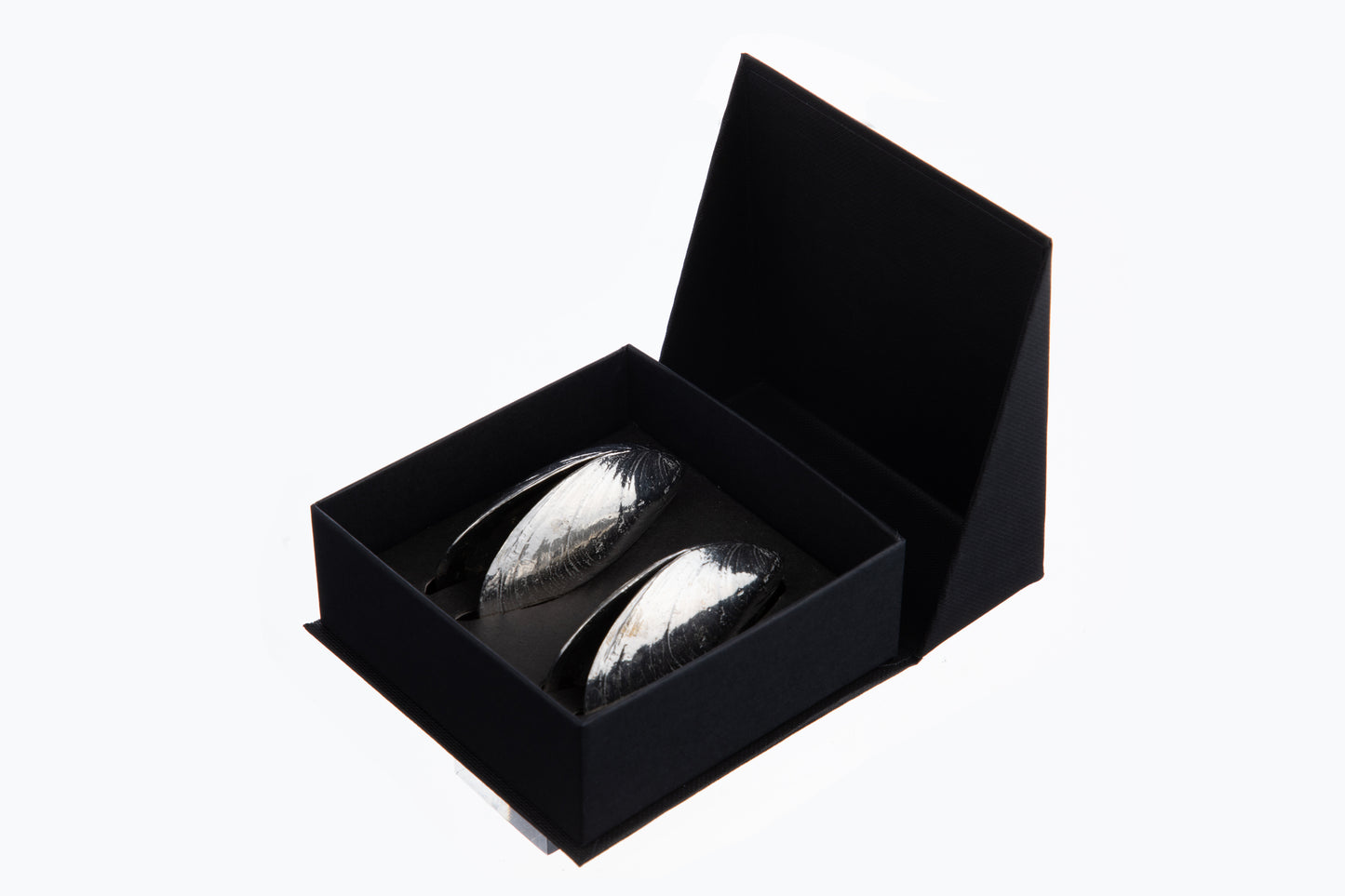 About delivery and shipping

*Free shipping for purchases of 10,000 yen (excluding tax) or more.

*The logistics company may change depending on the region and the size of the product. Please acknowledge it beforehand.

*Please note that we do not accept requests for distribution companies.

* We try to ship within 3 business days of confirming your order (confirmation of payment in the case of advance payment) (closed on Saturdays, Sundays, and holidays), but if the shipment is delayed, we will contact you by email. increase.

-------------------------------------------------- -------------------------

Hokkaido: 1290 yen + tax

North Tohoku: 950 yen + tax

Southern Tohoku: 800 yen + tax

Kanto: 750 yen + tax

Shinetsu: 800 yen + tax

Hokuriku: 800 yen + tax

Chubu: 800 yen + tax

Kansai: 900 yen + tax

China: 1000 yen + tax

Shikoku: 1340 yen + tax

Kyushu: 1290 yen + tax

Okinawa: 1880 yen + tax

*North Tohoku: Aomori, Iwate, Akita *Southern Tohoku: Miyagi, Yamagata, Fukushima *Kanto: Ibaraki, Tochigi, Gunma, Saitama, Chiba, Tokyo, Kanagawa *Shinetsu: Yamanashi, Niigata, Nagano *Hokuriku: Toyama, Ishikawa, Fukui *Tokai: Shizuoka, Aichi, Gifu, Mie

-------------------------------------------------- -------------------------

Shipping policy

About payment

Necessary charges other than product price

Consumption tax, shipping fee, transfer fee, and cash on delivery fee are required.

*If the total order amount is 10,000 yen (excluding tax) or more, shipping is free.

payment method

We offer the following three payment methods.

1. Credit card *Under adjustment as of December 14, 2022

2. Cash on Delivery

3. Bank transfer

 

payment deadline

Basically, we cannot accept returns or exchanges due to customer's convenience.

Please check the condition of the product immediately after the product arrives.

In the unlikely event that there is a defective product, please contact us within 7 days after the product arrives and return it.

*As a general rule, we do not accept returns of products that have been used for longer than 7 days after arrival.

view the details

About refund

Except for defective products, we cannot accept returns or exchanges in the following cases.

・Products that have passed more than 1 week after arrival

・ Food

Please see our refund policy for details.

Refund policy

Cancellation Policy

Please contact us within 24 hours after placing your order.

After that, we will not be able to cancel the order as it has already been arranged for shipment.

In addition, if you use a credit card, even if you cancel, the transaction record may be displayed on your credit card statement.

Please confirm that the transaction has been canceled in the next month's or the month after next's usage statement.

If you have any other questions, please contact each card company.
About liquor sales
Liquor sales license

Liquor sales license [Certificate number Hongo Law No. 44]

1. Name GOTOBAR Co., Ltd.

1. Location of sales floor TAKETA Building 1st floor, 2-3-174 Yayoi, Bunkyo-ku, Tokyo

1. License date May 28, 2020

1. Licensing conditions Retail sales of all alcoholic beverages

About liquor sales

This site sells alcoholic beverages.

・We do not sell alcoholic beverages to minors.

・Underage drinking is strictly prohibited by law.

Alcoholic beverages posted on this site are ordered, sold, and delivered at the 5108 store.

GOTOBAR Co., Ltd. has received the above liquor sales license from the district tax office chief.

permission

Importer standard code P0018W460000

Seafood sales business 2019 Bunbun raw food No. 217

Food sales business 2019 Bunbun raw food No. 237

Liquor sales business Hongo Tax Office Hongo Law No. 44 May 28, 2020 Relaxation of mail order conditions July 28, 2020